The classic exhibition concept "The World of Banksy" was completely revised and improved. You can see it for yourself in Prague which is the first city to offer an insight into our brand new digital concept. Banksy is without a doubt the world's most famous and celebrated graffiti artist. Now, a brand new show presenting the art icon is coming back to Prague. Set in the unique premises, the exhibition will revive the street atmosphere inside the Baroque style church of St. Michael bringing new artworks and quite a few surprises.
The World of Banksy hosts over 115 artworks by the elusive creator.
The exhibition displays murals, unique pieces from private collectors, grafiities, canvases, projections of his artworks, video installations, and more. Some pieces were reproduced and compiled especially for this unique show.  
The exhibition covers a period of his early career from late 90's to this year and features Banksy's most well known pieces like "Girl and Balloon" and "Sweep It Under The Carpet" as well as some of the artists' lesser-known works. Each of more than 115 artworks in this careful selection is presented in their original size.  
Who is Banksy?
Banksy, the British graffiti artist, is considered one of the main representatives of contemporary street art. His works, often satirical, address universal issues such as politics, culture or ethics.  
He is one of the most famous "unknown people" whose thought-provoking works have appeared in some of the most controversial places around the world. While he transformed streets from London to New York, from Berlin to Timbuktu, from Gaza to Tokyo into a giant canvas, he was also hung on the walls of major art institutions such as the British Museum, Tate Modern and the Louvre Museum.  
Banksy is a mysterious artist with a secret identity but globally recognized works.
About the location (What a place!)
Just like Banksy usually presents his art at unusual places, our exhibition also takes place at an unusual location -
St. Michael´s Church
right in the heart of
Prague
. Czech priest and church reformer Jan Hus used to preach here in the 15th century. The church and adjacent monastery were later disestablished during the reforms of Emperor Joseph II in the 18th century. In its most recent history, the church building served as a warehouse and a nightclub. Now, after centuries, it finally hosts another reformer -
Banksy!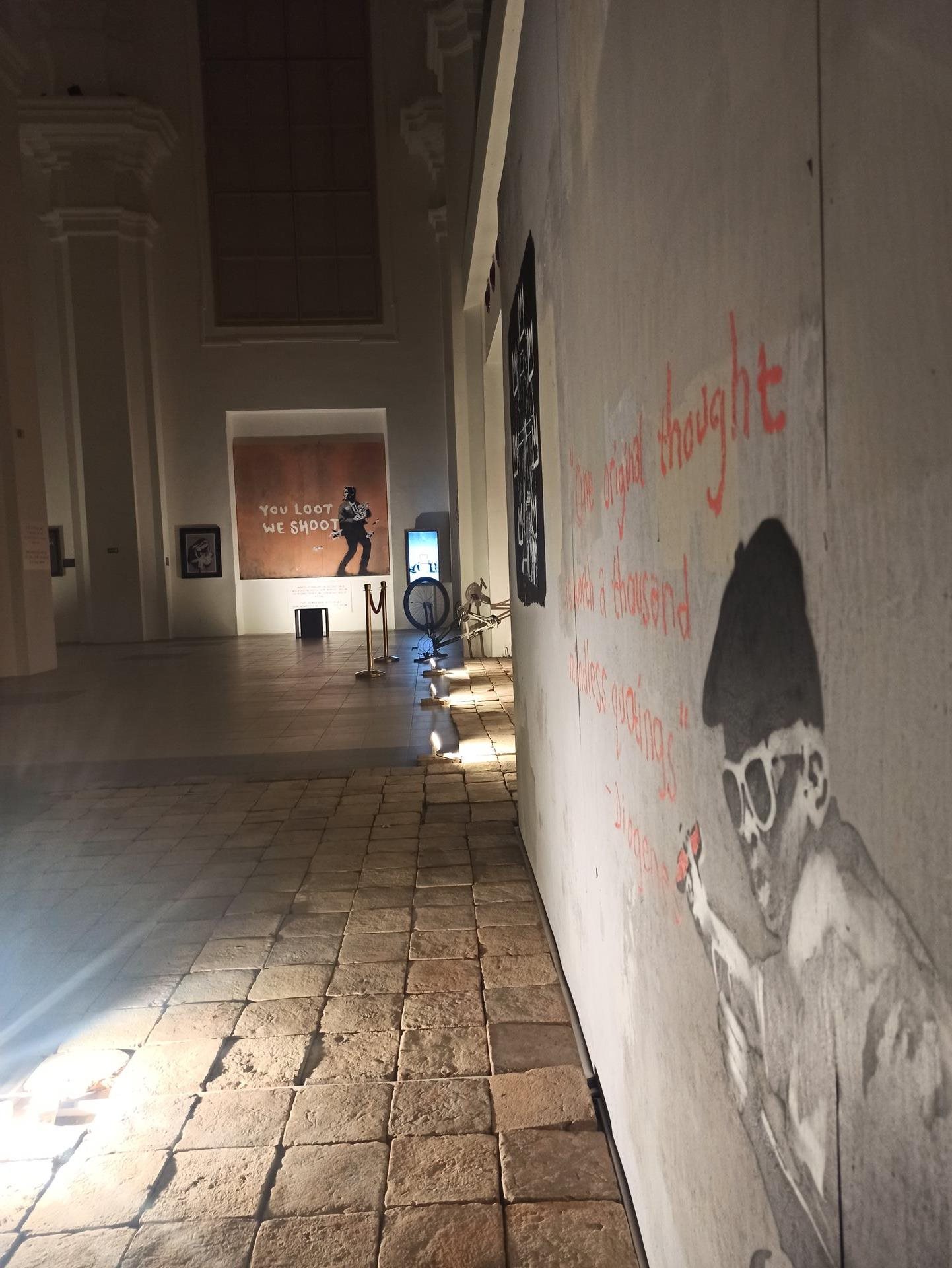 Tickets and prices
Exhibition tickets are now available!
For visitors who do not have the opportunity to buy their tickets online, tickets may also be purchased at the boxoffice from the start of the exhibition.
Important:
Due to the Covid-related limitation of the number of visitors, it is recommended to buy a ticket online in advance for the desired day and the desired time slot, as otherwise longer waiting times may occur.  
Detailed information on admission fees:
Adult: 360 Kč
Pair: 690 Kč
Student & Discounted     : 190 Kč
Children (7-15): 150 Kč
Family (2 Adult & 2 Children or 1+3): 910 Kč
Group (10 Person and more): 2400 Kč
School Class: 130 Kč  
The exhibition is bilingual; all exhibition text is presented in both Czech and English.  
Address
St. Michael´s Church
Michalská 29
Prague 1