Alfons Mucha was a phenomenal Art Nouveau artist who painted many paintings. However, the Slav Epic, a series of enormous canvases, is surpasses everything else. And you now have the unique opportunity to see all the canvases in one place. The series is returning to its old new home, available for viewing at the château in Moravský Krumlov in south Moravia between 2021 and 2026. The canvas exhibition spaces have been repaired and so now you can see Alfons Mucha's life work in all its beauty. Mucha spent 18 years painting the series at the Zbiroh château in Central Bohemia, starting in 1910. The dimensions of the seven largest canvases are 8 by 6 metres.
Series from the Slavic History
Mucha
painted the paintings to capture the
general history of the Slavs
. But a half of the work is dedicated only to the Czech nation – its history, religion and culture. The paintings are now arranged in a historically chronological order. The first one to see the Slavs in Their Original Homeland, then there is the canvas with Jan Hus or Jan Amos Comenius, to the final Apotheosis of the Slavs from the history of the Slavic nation.
Château Reconstruction
The paintings have already stayed in South
Moravia
. However, the château was in a great need of repair and so the canvases had to be moved. Now they are back after the much-needed repairs of the exposition. The entire courtyard area is now shaded so that the sharp sun rays do not damage the paintings. The paintings with dimensions of several metres are better seen as one area, from which the individual scenes come out. And the
conditions
here are
perfect
. The Epic will stay in
Moravský Krumlov
until 2026. Until then,
Prague
should be able to build a dignified place where the canvases can be displayed, according to the wish of the author,
Alfons Mucha
, who donated the entire series to Prague. However, under the condition that the city would build a gallery just for the Epic. That has not happened yet since 1928 when the gift was handed over.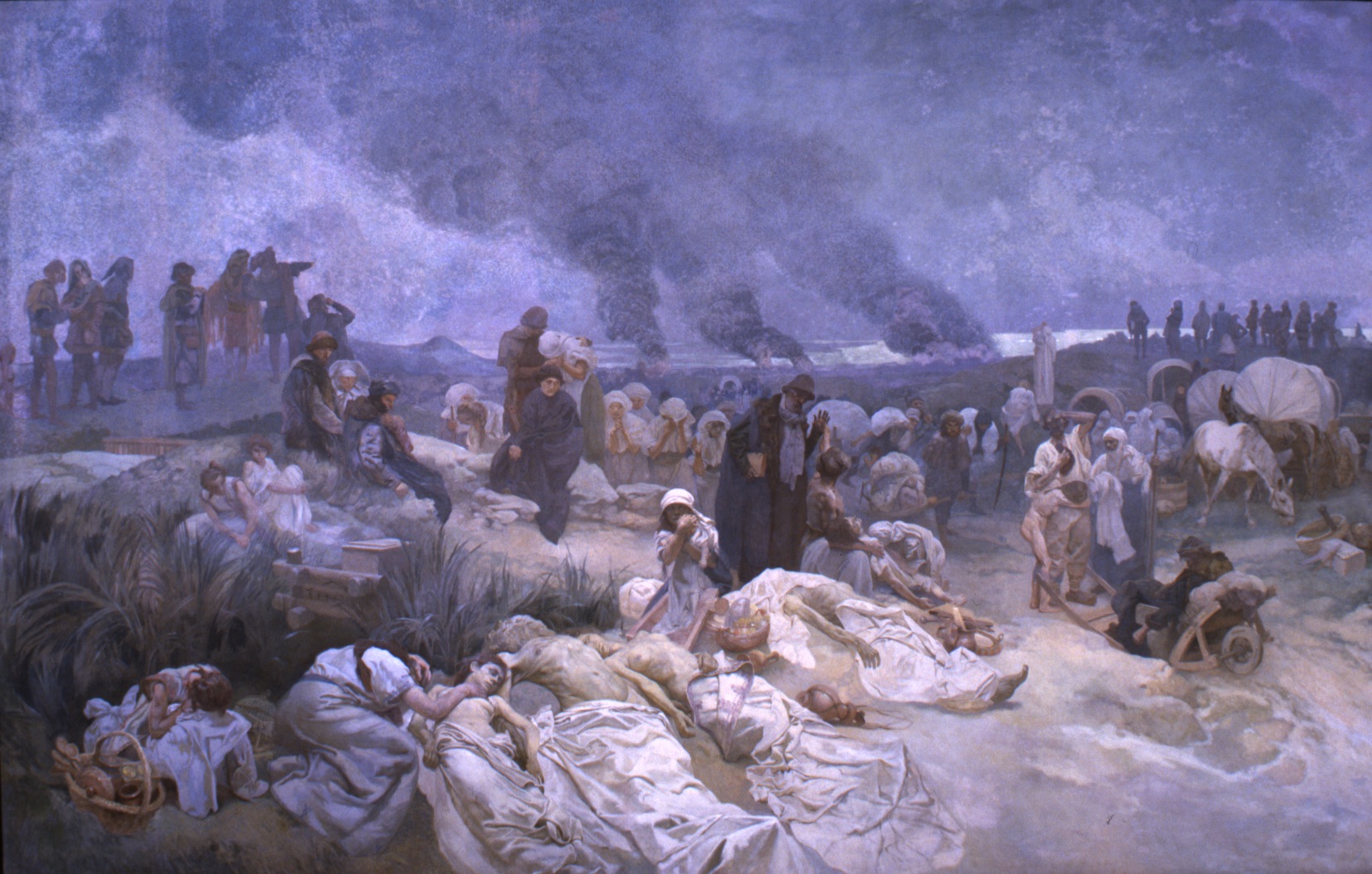 Address
Castle in Moravský Krumlov
Zámecká 1
672 01 Moravský Krumlov