The Czech Republic is one of the main transit points in Europe. The largest and main Czech airport is the international airport in Prague-Ruzyně, which changed its name to Václav Havel Airport Prague in 2012.
This text provides basic information on the rules of the road, public transport, flights to the biggest Czech airport and other related issues, including the regulations applying to the use of drones over the territory of the Czech Republic.
Czech Republic by car – basic information and rules
In the Czech Republic you drive on the 
right
.
Lights must be used 
throughout the day and night all year round.
Without exception, 
it is prohibited to drink alcohol before driving a car
 – the police may require you to take a breath test to prove that you are absolutely sober.
It is 
illegal to use a mobile phone
 while driving unless it is operated hands-free.
Children 
weighing less than 36 kilograms (80lb) and under 150 cm (4ft 11in) in height must use a 
car seat
 and a safety belt.
From 1 November to March 31, drivers in the Czech Republic must use 
winter tires
. Although the law permits using summer tires when the conditions allow it, the weather in the Czech Republic is very variable, specifically in winter, and so winter tyres help prevent problems and accidents.
All drivers should carry with them 
their driver's license, identity card and documents associated with their car's safety
 (technical licence and green card).
Speed
In built-up and residential areas - towns and villages, the 
speed limit is 50 km/h (30 mph)
. You must always give way to pedestrians at pedestrian crossings. The only exception are 
trams
, which must be given priority by both drivers and pedestrians.
The speed limit outside towns and municipalities 
is 90 km/h (55 mph)
.
The speed limit on motorways outside residential areas is 
130 km/h (80 mph)
, in towns and villages, you can travel down the motorway at up to 80
 km/h (50 mph)
.  
Fees
Cars of up to 3.5 tons driving down public roads that are subject to a charge, such as highways, must have a 
vignette
 – a proof that the driver has paid the appropriate fee.
No fee / no fee and no tolls
The
electronic vignette
became valid in the Czech Republic on 1 January 2021. It has replaced the former paper coupon stuck on to the windshield. The vignette can be purchased on the official state
website
at
eDalnice.cz
(the website is available in 5 language versions), as well as from the previous providers, such as EuroOil
petrol stations
or
Czech Post Office branches
, as well as in
self-service kiosks
located mostly in border areas. You can also find a map of highways in the Czech Republic with an overview of toll roads at
eDalnice.cz
.
Motorway vignette for 
10 days: 310 CZK (EUR 11, USD 13, CNY 85)
Motorway vignette for 
one month: CZK 440 (EUR 16, USD 18, CNY 120)
Motorway vignette for 1
4 months (1 December to 31 January): CZK 1500 (EUR 55, USD 63, CNY 405)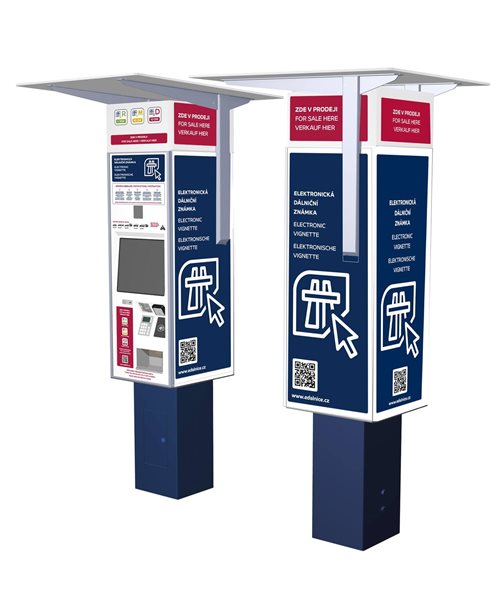 Warning!
Buy motorway vignettes ONLY through the official eDalnice.cz website, from the official retailers mentioned in the article, or from self-service kiosks! NEVER buy vignettes for higher than the official price!
Vehicles over 3.5 tonnes must have a special device  communicating with the toll gates to pay the fee for driving on roads in the Czech Republic. More information, including the rules for travelling with a motorhome or caravan, can be found 
here
.
Accidents
Drivers must report all accidents in which anyone is injured or killed, or when a third party suffers damage or when the damage suffered by one of the parties exceeds CZK 100,000 ( EUR 3,700, USD 4,200, CNY 27,000). Where none of these situations occurs and the drivers reach an agreement as to who caused the accident, they do not have to call the police. However, it is recommended that the form of "
European Record of a Car Accident
" should be filled in.  
Basic rules of road traffic in the Czech Republic in English you can download here.
Taxi
The average price per kilometre in a taxi is 
CZK 20 (EUR 0.75, USD 0.85, CNY 5)
. The final amount to be paid depends on the city, Prague usually being the most expensive. The price for the trip from 
downtown to the Prague airport ranges from CZK 500 (EUR 18, USD 20, CNY 135) to CZK 700 (EUR 25, USD 29, CNY 189).
Unfair taxi drivers are everywhere, but their number in the Czech Republic is decreasing - to avoid the remaining ones, 
do not take a taxi directly in the street
 and rather call one by phone. Use only taxis that are 
clearly identified
 and a
sk about the price to your destination beforehand
, if it is too high, do not get on.
Czech Republic by train and bus
The Czech Republic has one of the most dense railway networks in Europe and a sophisticated system of bus transportation. Both trains and buses are reliable. A comprehensive system for looking up departures of trains and buses all around the Czech Republic is to be found 
here
.
Prague
In Prague you can use 
trams, buses, metro, ferries and even cable cars
. Timetables, connections and other important information on Prague transport can be found 
here
. A comprehensive system of public transportation is also available in 
Brno
 (
here
), 
Ostrava
 (
here
), 
Pilsen
 (
here
), 
Liberec
 (
here
) and other cities. With the modernisation of the fleet, an increasing number of public transport vehicles are 
barrier-free
. The timetables include information on stations that have lifts or special paths making them accessible to disabled people.
Map of public transport system in Prague
To use public transport in Prague, you must buy a ticket, choosing from one of the following options: The basic fare for adults costs 
CZK 40 (EUR 1.50; USD 1.8)
. If you are going to stay in Prague for one day, it is convenient to use a one-day ticket for 
CZK 120 (EUR 4,6; USD 5,5)
, if you are planning a weekend visit, it pays up to buy a 
three-day ticket for CZK 330 (EUR 12,7; USD 15)
. The ticket is always valid from the moment of its marking (the marking machines are in the metro, on the trams and buses) - it is enough to mark it once. If you fail to use a ticket, you may be imposed a 
fine of up to CZK 1,500 (EUR 58, USD 68)
.

Discover Prague with the Prague Visitor Pass!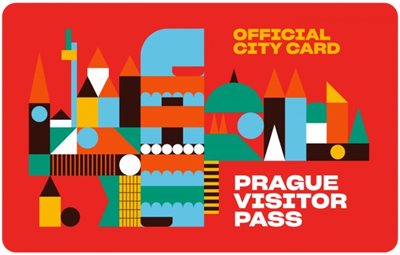 Transport to the airport in Prague and elsewhere
The largest airport in the Czech Republic is the 
Václav Havel Airport in Prague
, formerly called Ruzyně and renamed after the Czech president in 2012. Its official website is accessible under 
this link
. The airport is situated on the outskirts of Prague, but the
 connection with the centre
 is very good. The AE (
Aeroport Express
) bus line will take you to the Main Train Station in the centre i
n 30 minutes
. The line has its own fare and the tickets are available directly from the driver. There is also a number of regular fare buses going from the airport to different metro stations, such as 
Nádráží Veleslavín
 or 
Zličín
. More details are available 
here
. You can also travel to and from the airport with one of private carrier services.
Other international airports in the Czech Republic are located in 
Brno
, (
official website
), 
Ostrava
 (
official website
), 
Karlovy Vary
 (
official website
) and 
Pardubice
 (
official website
).These official websites include information on public transport and parking.  
Flying in a different way: How drones are used in the Czech Republic

Rules for Flying Drones in the Czech Republic
Drones are becoming ever more popular and an increasing number of people would like to take the chance of bringing home bird's eye view photos from their holiday. In the Czech Republic drone operation is governed by rules which should be thoroughly studied before embarking on an unmanned flying adventure.
No matter whether you want to use drones for private or commercial reasons, in the Czech Republic you definitely must 
avoid no fly zones
. To view their locations see the website: 
http://aisview.rlp.cz/
 .
In addition, without the necessary permits (for more details see below) you will not be allowed to fly an unmanned aircraft above motorways, roads or private land without the permission of the owner and furthermore you will need the consent of the people who could be depicted on the shots from the drone.
Permits, insurance and possible fines
And that's not all. Commercial use of drones is subject to additional regulations and it is necessary to procure special authorisation issued by the 
Civil Aviation Authority
. To see its website, please click 
here
. We recommend checking all the requirements for flying drones in the territory of the Czech Republic with this authority.
In short: a potential drone operator must procure 
permission to fly 
and 
permission for aerial work
, or possibly it may be necessary to acquire 
permission to operate aerial activities for one's own needs
.
Make sure not to forget 
insurance
, because a falling drone can cause injury to people as well as damage to property.
The procuration of all necessary permits 
will cost you about 
CZK
26,000.00
 (approx. USD 1,000.00, approx € 960.00).
A fine
 for illegal use of a drone in the territory of the Czech Republic can climb to as high as 
CZK
5,000,000.00
 (approx. USD 200,000.00, approx. € 185,000.00). In addition, one may face a
 penalty
 for unauthorised business activities or even additional prosecution.
Segway Rides
Since mid August 2016 there has been a ban on using Segway personal transporters in Prague centre and some other parts of the city, both on pavements and pedestrian zones as well as roads. This step was taken after numerous complaints from Prague residents and councillors alike.
The ban applies to:
The whole centre of Prague (Prague 1)  
A section of the Vinohrady quarter near náměstí Míru/Freedom Square (Prague 2), and in the neighbourhood of Slavíkova, Korunní and Jana Želivského streets (Prague 3)  
South Road Connection, Spořilov (Prague 4)  
Lesser Town and Kinsky Garden (Prague 5)  
Letná, Holešovice, Stromovka (Prague 7)  
Karlín (Prague 8)  
You will still be able to whiz around on Segways in Prague 6 and make the most of zooming about in the Hvězda Enclosure or around the Břevnov Monastery. In addition, you can head for the modern Rohan Embankment in Karlín, where you will be able to ride around on your electrical steed.