Whether you like to delve into the secrets of the local culinary scene while on your travels, or enjoy sampling delicacies from all over the world, our selection of the best restaurants is sure to come in handy on your holiday in Czechia. We present 10 establishments outside Prague and 3 in Prague that will prove a real treat for your taste buds.
Sůl a řepa (Salt and Beet) in Strakonice: When the alchemist does the cooking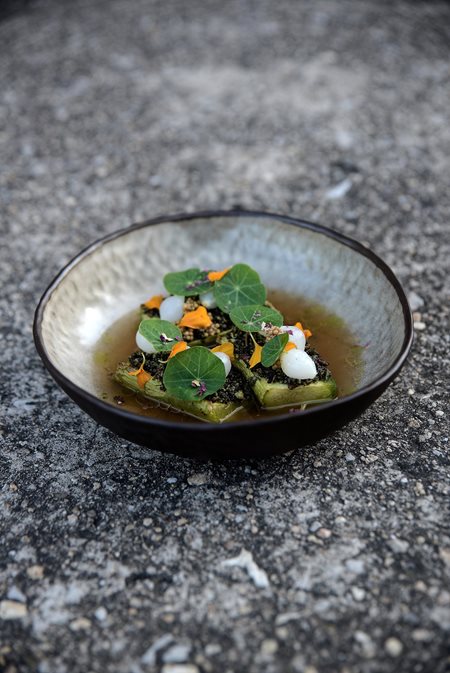 Dandelion tiramisu, elderberry capers, pickled linden buds, unpollinated spruce blossoms that taste like the forest, dust from fermented vegetables... No, we're not talking about an alchemist's workshop. You can find these very "magical" ingredients and appetizers on the menu of one of the most famous restaurants in
South Bohemia
. It prides itself on cooking with
ingredients from local farmers
and uses everything down to the very last crumb. That's why they do a great deal of
pickling, fermenting, drying
… Although it might not sound like it from the name, the restaurant has something for absolutely everyone,
meat lovers
and
vegans
included. Amongst other treats, it serves up
long-forgotten Old Bohemian ingredients
, Strakonice
beer
or
South Bohemian carp
– a traditional Czech delicacy.
Masné krámy (Meat Market) in České Budějovice: Czech beer is an integral part of Czech cuisine!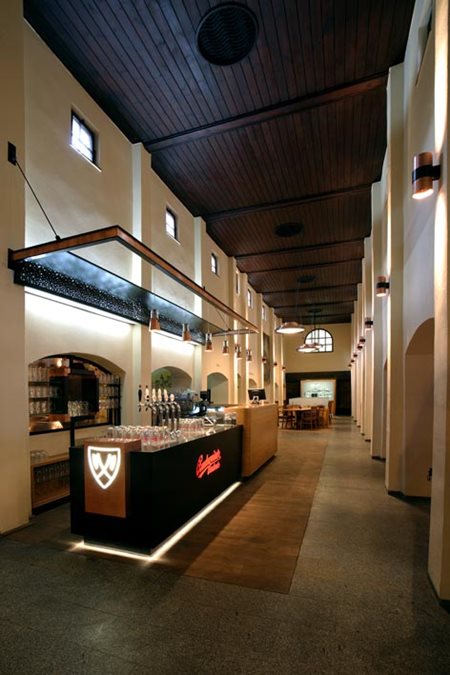 And where else do they have the best
Budweiser Budvar
on tap than in the home of this world-famous Czech beer? And one of the best places in 
České Budějovice
is the Masné krámy restaurant, serving beer out of state-of-the-art
tanks straight from Budvar
. Beer – they have a special
ringed lager
on tap here, which is not available anywhere else as it is very difficult to store and treat – and of course it's not just the beer you can enjoy in the restaurant. This golden nectar is the perfect complement to
Czech cuisine
. And they're really good at it here! Fancy some goulash, tenderloin or roast duck? This amazing culinary experience, which will take your holiday in the Czech Republic to whole new level, is further enhanced by the restaurant's unique
genius loci
. It's situated inside a former
16th-century meat market.
Víno Šílová (Šílová Winery) in Mikulov: The nectar of the gods on a plate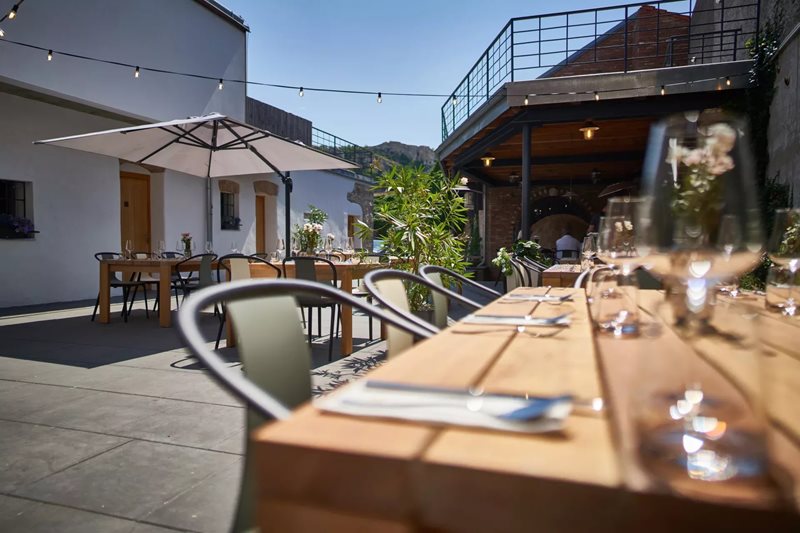 Let's get this clear: the Czechs are fond of more than just beer. We also love
wine
, ideally from 
South Moravia
! And nestled right in the heart of this charming region, in a historical picture-postcard town, is the Šílová Winery. The owners firmly believe that wine and food simply belong together. That's why this stylish modern establishment, which offers accommodation and a
wine cellar
in the centre of
 Mikulov
, also includes a restaurant. The menu features dishes where
wine (from their own vineyards!)
is actually
one of the ingredients
or adds a sensory effect, either traditionally served up in a glass, or as a product made from grapes, from wine vinegar and mustard to
grape jelly
, or raisins to
grape brandy
. You can keep coming back to the winery and tasting something new every time. That's because the menu, which always includes a traditional
Czech speciality
, changes according to the season.
Vejmrda Trutnov: The taste of Czechia's highest mountains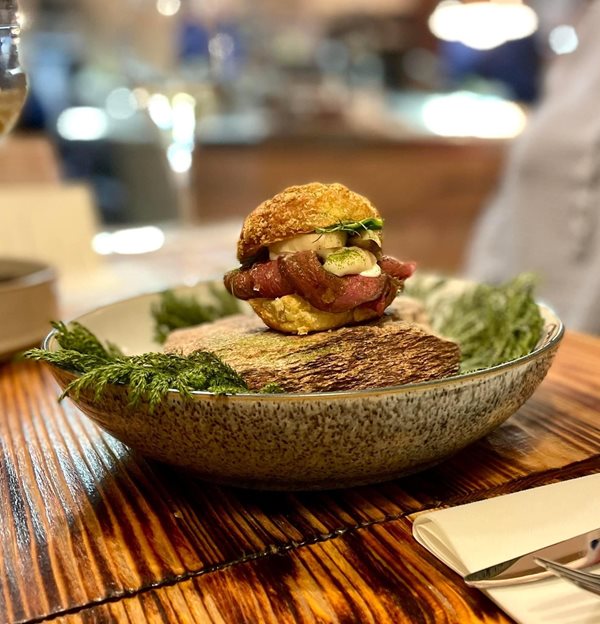 And what about taking a behind-the-scenes look at some
traditional cuisine from Czechia's highest mountain range
, literally? Visit the Vejmrda restaurant in Trutnov, which pays homage to the
traditions
of the Giant Mountains
, not only on the plate, but also in the staff uniforms, inspired by traditional folk costumes. You really do get a peek behind the scenes in their
open space kitchen
, which plays host to a real culinary concert. Not only do they cook up dishes on a charcoal grill, smoke, ferment, marinate and age the meat themselves, not to mention make juices, they even bake
their own bread
! The menu, which changes frequently, has plenty to choose from for meat lovers, as well as vegans and "gluten-free" connoisseurs, fans of
traditional dishes
, and also gourmets with a taste for
modern cuisine
.
Kovárna Frýdštejn: Travel back through time in an old smithy. You'll feel like you're in paradise!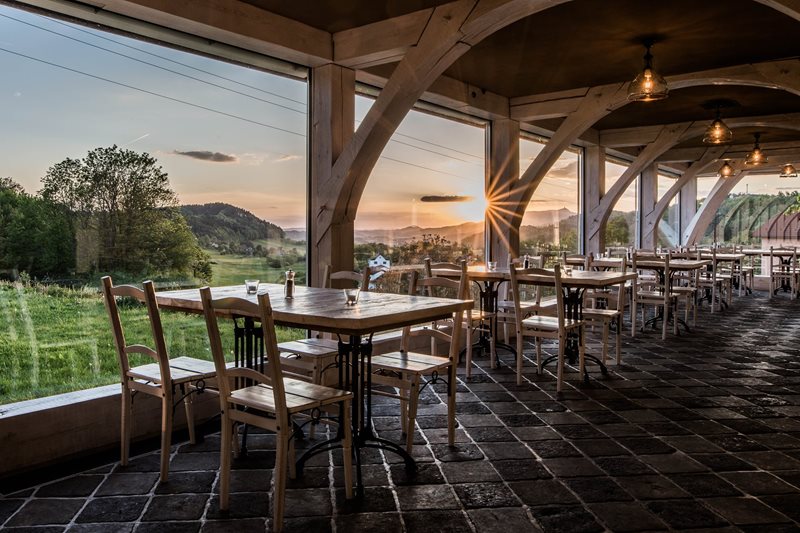 At this restaurant in the heart of the
Bohemian Paradise
you'll really feel like you're in paradise. Not just due to the gorgeous scenery, but because of that heavenly food! The Kovárna restaurant is part of the resort of the same name at a
historical smithy
, declared Boutique Hotel of the Year 2022 in a prestigious poll by
Amazing places
. And "amazing" is the perfect word to describe this restaurant. You can enjoy
traditional Czech cuisine
and specialities prepared on a
Josper grill
(you'll remember these steaks for a long time!) by the
period forge and anvil
, while the
cosy lounge with its tiled stove
will take you back to times long gone by, or as you eat you can admire the unforgettable
view from the terrace
.
Long Story Short Eatery & Bakery in Olomouc: Taste Czechia and the whole world in a historical fortress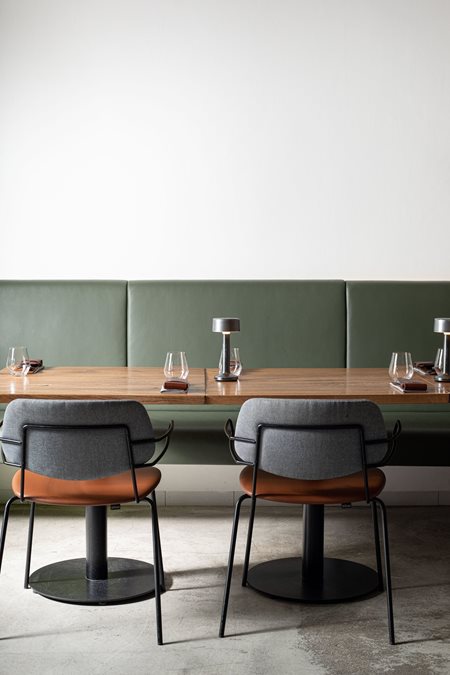 Olomouc
is home to one absolutely must-visit restaurant with an 
open kitchen
- the Long Story Short Eatery & Bakery in a historical fortress. As tribute to the times when this period building used to house an
army bakery
, besides cooking meals, they also started to
bake their own bread
. Their wheat-rye sourdough bread, ciabatta and Danish pastries are absolute perfection. All their baked goods form part of the menu, which includes both
traditional dishes
, which they're not afraid to take to another dimension, as well as
fusion cuisine
. As it all depends on the availability of ingredients from the local region, the menu – with the exception of the signature staples - changes every two weeks or so. This is truly fine dining for
everyone, including vegans
.
The icing on the cake of this amazing culinary experience is a few sips of the
lager brewed for this very restaurant by the nearby family brewery
, one of the specials from the local
microbreweries
, or a glass of wine not only from Czech vineyards. Besides lunches and
creative shared-plate dinners
, at Long Story Short you can also enjoy a
special Chef's Table evening
or dinner with the Head Chef.
Angusfarm Soběsuky: Heaven for any beef lover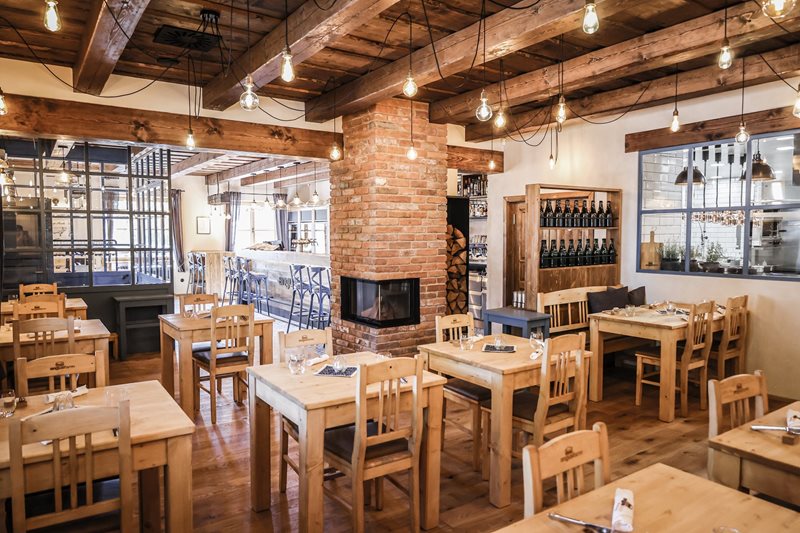 If there were a heaven for beef lovers, it would look just like the Angusfarm restaurant in the 
Plzeň
region. There are not many places where you can enjoy
steaks
like these, including less common cuts, not to mention their
burgers
and
steak tartare
! It's no coincidence that this restaurant hosts the
National Steak Tartare Mixing Championship
every year. As the name of the restaurant implies, the meat, which they
wet- and dry-age
themselves on the premises, comes from
Angus
cattle that graze on the surrounding meadows. Angusfarm is even proud to hold a
Slow Food
certificate, and the kitchen uses local seasonal ingredients as much as possible. Like the meat, the vegetables are also sourced from
local farmers
, the cheeses from cheesemakers that live just over the hill. And the butcher, who prepares some
delicious sausages
from frankfurters to jerky, is also a beekeeper, so there's no shortage of honey.
Arrigo in Děčín: Revel in the sight and taste of the art of Michelin chefs and a MasterChef judge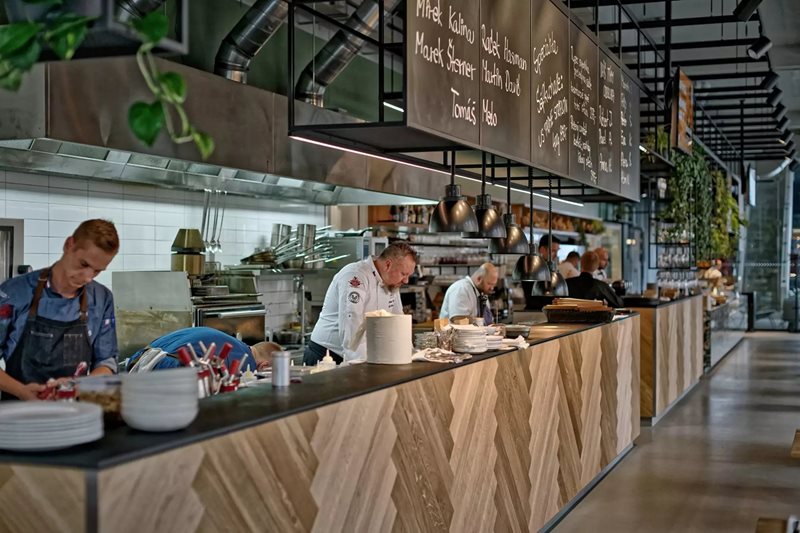 Fancy seeing culinary masters with 
Michelin experience
or judges from the Czech version of
MasterChef
at work? Don't miss this opportunity at the
open kitchen
at the renowned Arrigo restaurant. Although watching masters of the Czech culinary scene practising their art is a wonderful, tasting what they make is even better!
The menu here changes regularly so that you can enjoy not only
Czech dishes
, but also culinary specialities
from around the world
. You can look forward to a seasonal menu, offering delights such as
strawberry, asparagus, truffle, pumpkin, or wild mushroom dishes
, depending on what's currently in season. They also host days focusing on a particular type of cuisine, so you can call in for some fish and seafood, as well as
game feasts
. You probably won't be surprised to hear that Arrigo also
bakes its own bread
. You can enjoy that in the restaurant or in the local
bistro with its little shop
, where you can treat yourself to an amazing
breakfast
or
brunch
. You can then sit in the stylish
café
over a truly delicious coffee and homemade dessert.
Libušín & Maměnka on Pustevny: Wallachian cuisine amidst wooden lacy décor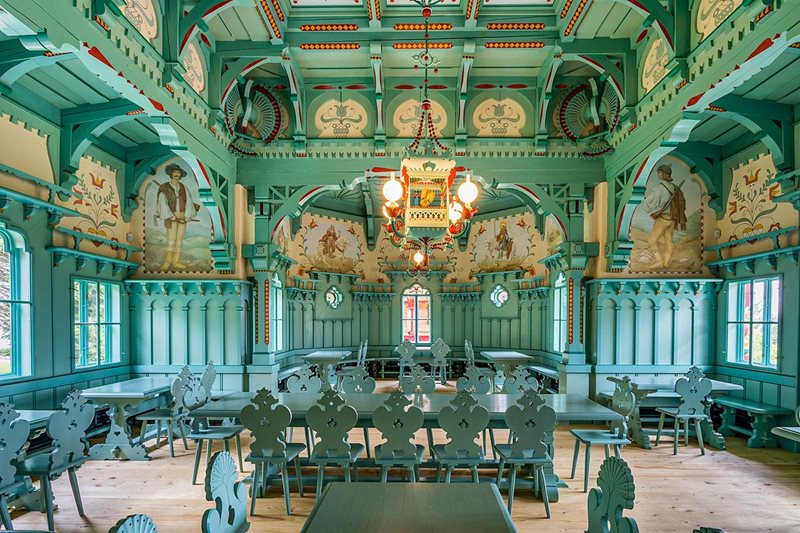 When you're on
Pustevny
in the Beskid Mountains and standing in front of these quaint, lavishly ornate wooden buildings in the 
Art Nouveau
style with touch of
folklore
, you'll feel as though you're behind the scenes of a theatre play. And that feeling won't change when you step inside, either. The menu is also in the same folky spirit. Don't expect to find any hamburgers or fish and chips at the Libušín restaurant. The menu offers exclusively
traditional Wallachian cuisine
typical for the
Beskid
region. Almost all the dishes here are based on
potatoes, cabbage, buckwheat, plums, flour
and
brynza cheese
.
By far the biggest attractions include
lokše
(dry-baked potato pancakes) with red cabbage and brynza (fresh sheep's cheese) and
střapačky
(potato dumplings) with cabbage and smoked meat or brynza and bacon. Their
lamb in plum brandy
with semolina gnocchi is also popular. And as we Czechs often eat something sweet as a main course, the menu includes treats such as
buckwheat porridge with honey and plums
, served with cottage cheese, and
fruit dumplings
. And definitely don't forget to try the traditional
Wallachian frgál
, which looks a bit like a pizza – except that this one's sweet. And how about spending the night in an enchanting room and making it a gourmet weekend on Pustevny? Stay at the cosy Maměnka!
U Jiskrů in Kbelnice near Písek: Taste some often long-forgotten Czech culinary delcacies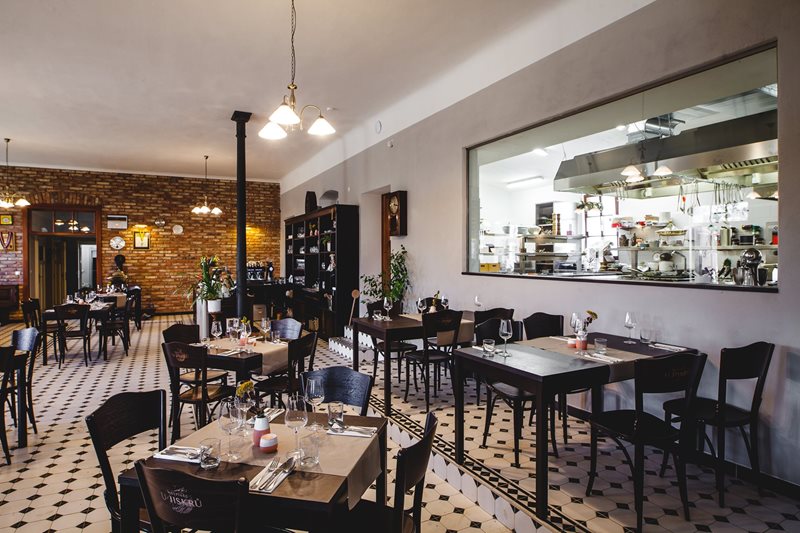 The tradition of the
coaching inn
in Kbelnice, which provided food and a place to stay for people and horses travelling the imperial road from
Strakonice
to
Prague
, dates back to the 19th century. And this tradition was brought back to life in the new millennium, when a renowned chef with many years of experience from all over the world opened a restaurant in the old
building
. The U Jiskrů restaurant became one of the very first to win the title of
Nositel tradic české kuchyně
(Bearer of the Traditions of Czech Cuisine, a prestigious award granted as part of the
CzechSpecials
project! And so it'll probably come as no surprise that they cook authentic
national culinary treasures
and often revive many
long-forgotten recipes
. Fancy some goulash, roast goose, chicken with paprika, veal udder, pulled pork jowl or even pigeon? The staff at U Jiskrů put together the menu based on what is available in the
current season
and from their own
garden
, or what ingredients can be sourced from their suppliers, most of whom are from the
South Bohemian
region.
Where to eat in the Czech capital? Here are our tips for the best restaurants in Prague