The celebration of spring after a long and dark winter means an end to winter weather and a beginning of the warm and sunny half of the year. We would like to show you some customs and traditions, combining Christianity and pagan religions, which are still alive today.
The Fragile Beauty of Painted Eggs
Decorated eggs
are the best-known symbol of Czech Easter;
a symbol of fertility and a new life
. At markets, on tables and on tours of the interiors of folk cottages or noble châteaux, you will see eggs that are painted or scraped, coloured using natural dyes, etched, forged, decorated with wire or perforated. The perforated eggs look like they are made of lace. A painted egg is also the most common souvenir you can bring home at Easter. Just make sure you wrap it well!
Easter as a Symbol of Spring and Rebirth
The date of Easter follows a lunar calendar that was used in the ancient times. That is why Easter falls on a different day every year. Easter starts with Palm Sunday, continues on
Good Friday
, when Jesus Christ was crucified according to the Christian tradition, and
Easter Sunday
, when he was resurrected. In the Czech Republic, Easter ends on
Easter Monday
. It is a day dedicated to
folk traditions
that originated a long time ago, in the pagan era.  
Back to Nature
Even before Christianity, Easter used to be an important time that our ancestors celebrated. Instead of the Resurrection of Christ, they celebrated the rebirth of nature and the victory of the good and life over winter and death. They collected
medicinal herbs that have a magic power
, worshipped trees and sacred groves where the good forces and gods dwelt and celebrated the returning
power of the Sun around the spring equinox
. Despite the fact that Christianity arrived in today's area of the Czech Republic about 1,200 years ago and yet most Czechs think of Easter as a celebration of spring and the customs they observe are largely pagan. The Christian meaning – the celebration of the Resurrection – is usually secondary. More and more people see the Easter season as an opportunity to replenish their life force
in the midst of beautiful spring nature
, rather than a celebration of Christian traditions.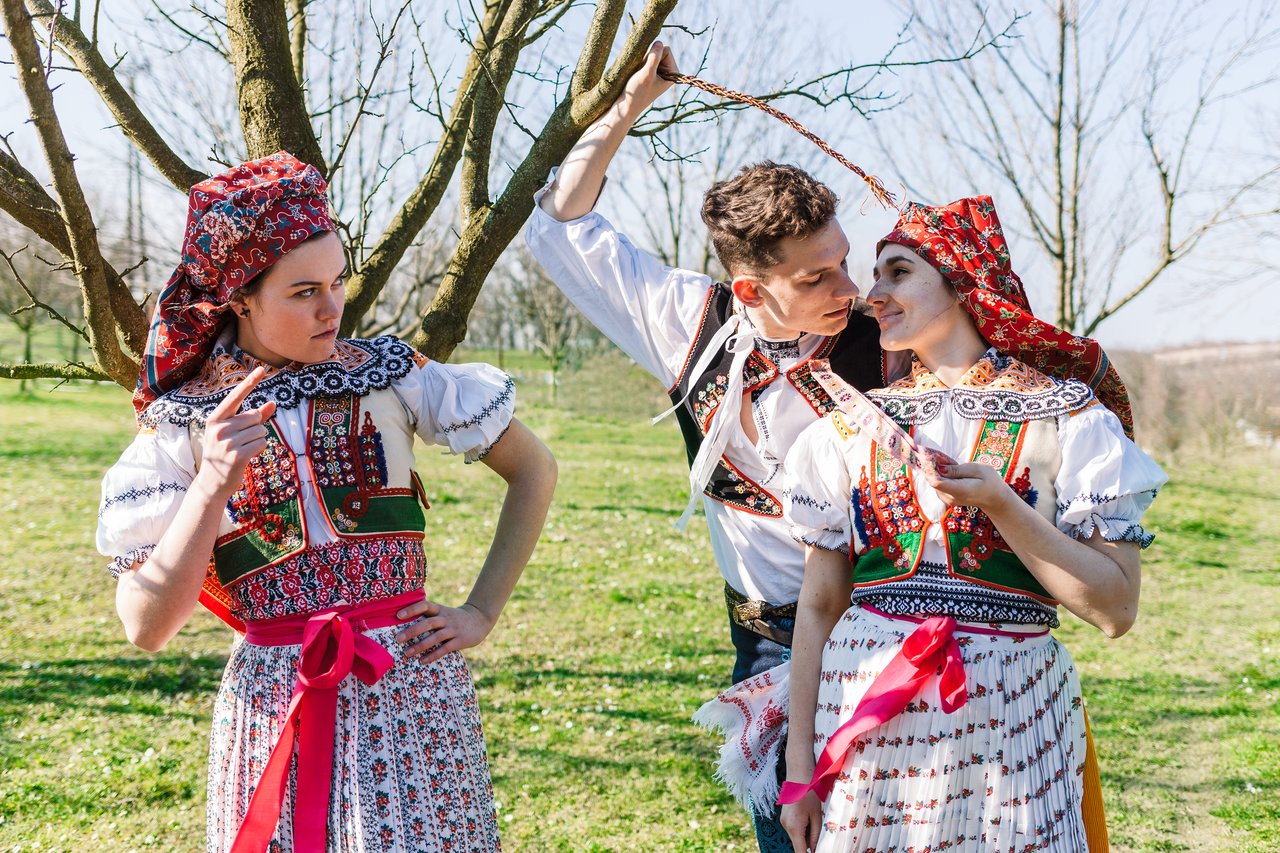 The Whip – A Pagan Artefact
Czech Easter, or Easter Monday, has one specific tradition that is especially maintained in the country. Men visit women with
the whip
made of willow osiers. They are rewarded with a painted egg or some treats. It used to be a custom that was to ensure women stayed young and healthy all year round. This custom might seem odd to foreigners, but do not worry. It is definitely no hitting, just a symbolic act. And what to do with the whip after Easter? In some places, people plant it in the ground. It should be made of fresh osiers and so it is highly likely that a new tree will grow out of it.  
Easter Feasting
No holiday can do without homemade food and beverages! And what is necessary on the
Czech Easter table
? You will find the
Easter lamb
on every Easter table. It is basically a sweet cake that symbolised Christ's sacrifice. When baked, it is gently removed from the baking tin, raisins are inserted as eyes, and the cake is sprinkled with vanilla sugar, or poured over with chocolate icing. The lamb is accompanied with
mazanec
, a sweet Easter bread. It is a loaf made of yeast dough with almonds and raisins, and you can have it for breakfast with some butter and jam. In many parts of the Czech Republic, you might find
Easter Buns
, known as Judas' Rope. According to the tradition, honey is spread on them, and they are eaten on Green Thursday morning, if possible, before the sun rises. On Easter Saturday, when the Lent ends, the tradition requires
stuffed meat
to be prepared. The
stuffing
should be filled with fresh green herbs or young nettles that symbolize spring and awaken nature. As you can see, the Easter table is not only sweet, but also full of customs!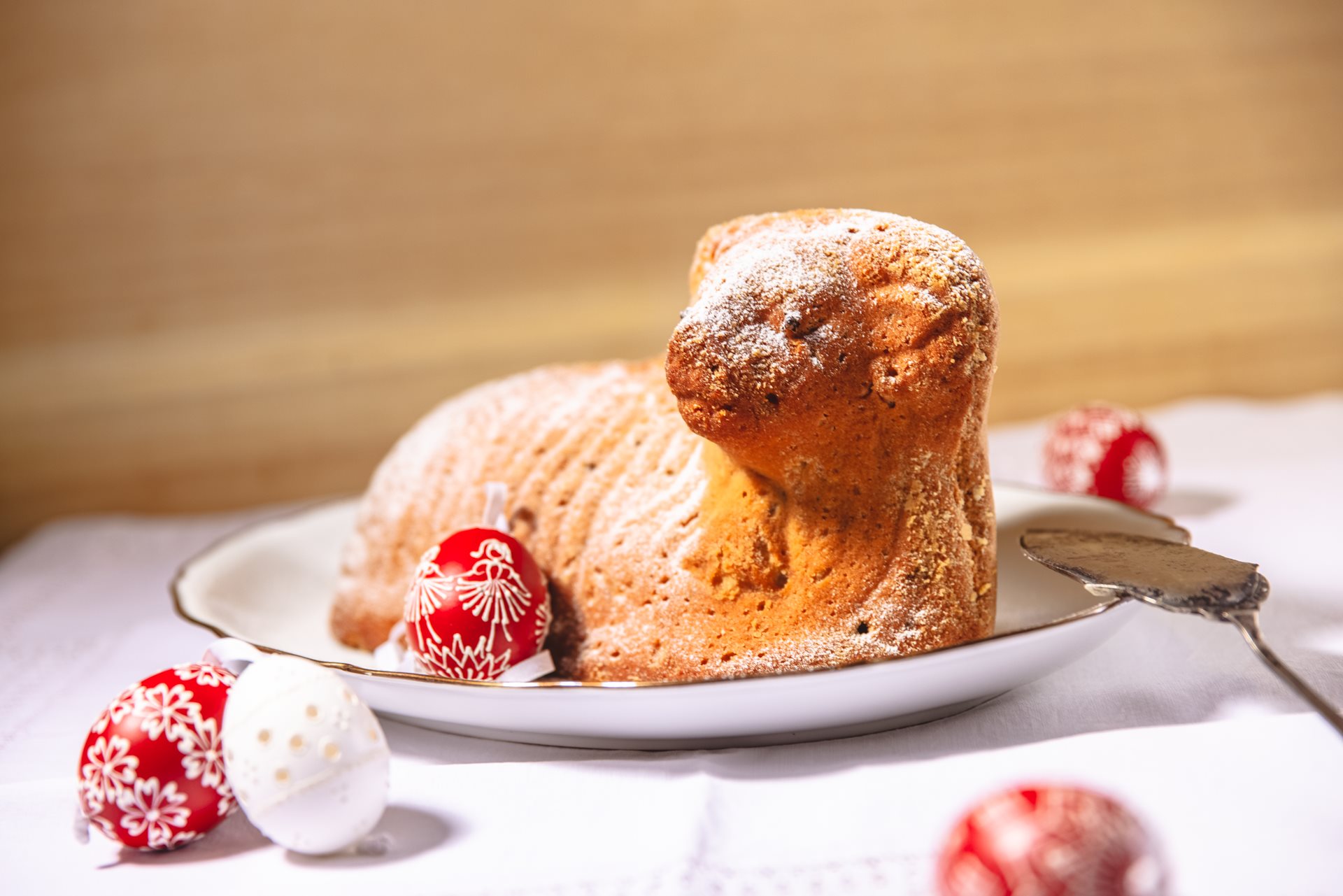 Liturgical Easter
If you would like to enjoy the
Christian Easter
, visit one of the churches. Traditional masses will take place, for example, in the
St. Vitus
Cathedral
at the
Prague Castle
or in other cathedrals all over the country. Service to commemorate the Last Supper takes place on Thursday, to commemorate the Passion of the Lord on Friday, and the Easter Vigil takes place on Saturday.  
Explore the Traditions
If you would like to learn about the real Czech folk Easter, visit one of the open-air museums. Every year, the
Wallachian village
in 
Rožnov pod Radhoštěm
in
Moravia
prepares the
Wallachian Easter
. Besides the market, you can look forward to some cembalo music, a demonstration of making the traditional spring soup with tasting, and you can even paint an egg! An interesting programme awaits you in the
Museum of Rural Buildings
in Vysoký Chlumec in
Central Bohemia
. The tours present traditional customs and Easter atmosphere in the country in previous centuries. The cottages are open to visitors, and you can try egg painting, whip braiding, make a whistle from a willow branch, weave a ribbon for the whip, or even the spinning wheel. During Easter, sweet buns will be baked in the tiled stove on Thursday and Sunday, and bread in the historical bread oven on Friday and Saturday. You will have the opportunity to try something good!
10 Tips for Easter events:
Central Bohemia – Princely Easter at Křivoklát (7–9 April)
Central Bohemia – Easter Knight Festival at Okoř (9 April)
Moravia – Easter in the Wallachian Open-Air Museum in Rožnov (8–10 April)
Moravia – Easter at Valtice (7–10 April)
South Bohemia – Easter market at Blatná (7–9 April)
South Bohemia – Easter tours of the Jindřichův Hradec chateau (7–10 April)
Prague – Easter market at the Old Town Square (25 March–16 April)
Plzeň – Easter market at the Republic Square (30 March–10 April)
Brno – Easter festival at the Liberty Square (31 March–9 April)
Český Krumlov – Easter market at the Svornosti Square (2–10 April)
Where to taste Czech Easter specialties?
Where to enjoy Easter feastings?