From March 2021, every tourist guide in the Czech Republic is obliged to wear a dedicated ID card - the Czech Tourist Guide Identification Card, issued by the Ministry of Regional Development. Guides shall wear this ID card visibly on their clothing when providing guide services.
The new legal regulation of guide activities is intended to contribute to awareness of the guides' qualifications and to prevent provision of inferior quality guide services in the tourism sector. 
Two types of guide ID cards are issued: 1st degree without the need to prove professional qualification and 2nd degree with proof of professional qualifications (knowledge or skills required for the work of a tourist guide, but neither language skills nor regional specializations are examined).  
The validity of ID cards can be verified in the public 
list of tourist guides
.    
Guides from other EU Member States, EEC and Switzerland may provide their services in the Czech Republic on the basis of EU law in the 
temporary provision of services
 mode, but they must notify the Ministry of Regional Development on this fact prior to the first provision of services via an electronic form available on the website of the Ministry of the Interior.   
You will find more information on the 
Ministry of Regional Development website
.       
Sample of the Czech Tourist Guide Identification Card – 1st degree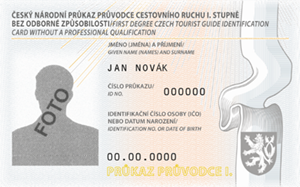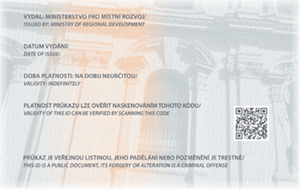 Sample of the Czech Tourist Guide Identification Card – 2nd degree