When you pass through the heart of Mariánské Lázně you have the sense that you have been transported back in time to a century ago with the wave of a magic wand. Splendid spa buildings alternate with blossoming parks in which spa guests sit, sipping contentedly on jugs filled from some of the town's famous springs. Get to know the story of a town which, at the height of its fame, hosted the most important of statesmen and artists, and remains one of Europe's most beautiful spa towns.
It's hard to imagine that two centuries ago there was nothing here but a valley of inaccessible forest and bubbling swamps. However, when Johann Josef Nehr, a doctor from the nearby monastery in Teplá, proved the unique health-giving effects of the local springs, the spa town soon sprang up. Within a few years it was opening its doors to such figures as Chopin, Strauss, Goethe, Kafka, Freud, Kipling, Edison, Twain and Great Britain's King Edward VII.
Fifty health-giving springs
In the broader environs of the town there are around 160 springs, while in Mariánské Lázně itself you will find over 50 cold mineral springs that are used for the successful treatment of disorders of the kidneys and urinary tract, the nerves, and the digestive system, as well as skin problems and disorders of the breathing and motor apparatuses. However, you can enjoy a stay here even if nothing ails you. At most of the local spa buildings you can experience genuine pampering in the form of unique wellness procedures that will perfectly relax your body and mind. Mariánské Lázně's most distinctive feature is the wonderful parks that make it one of Europe's most beautiful garden towns. You can stroll uninterrupted here, watch water trickle from numerous fountains and springs, breathe in the scent of flowers and trees in bloom, or just unwind with a coffee and some excellent spa wafers.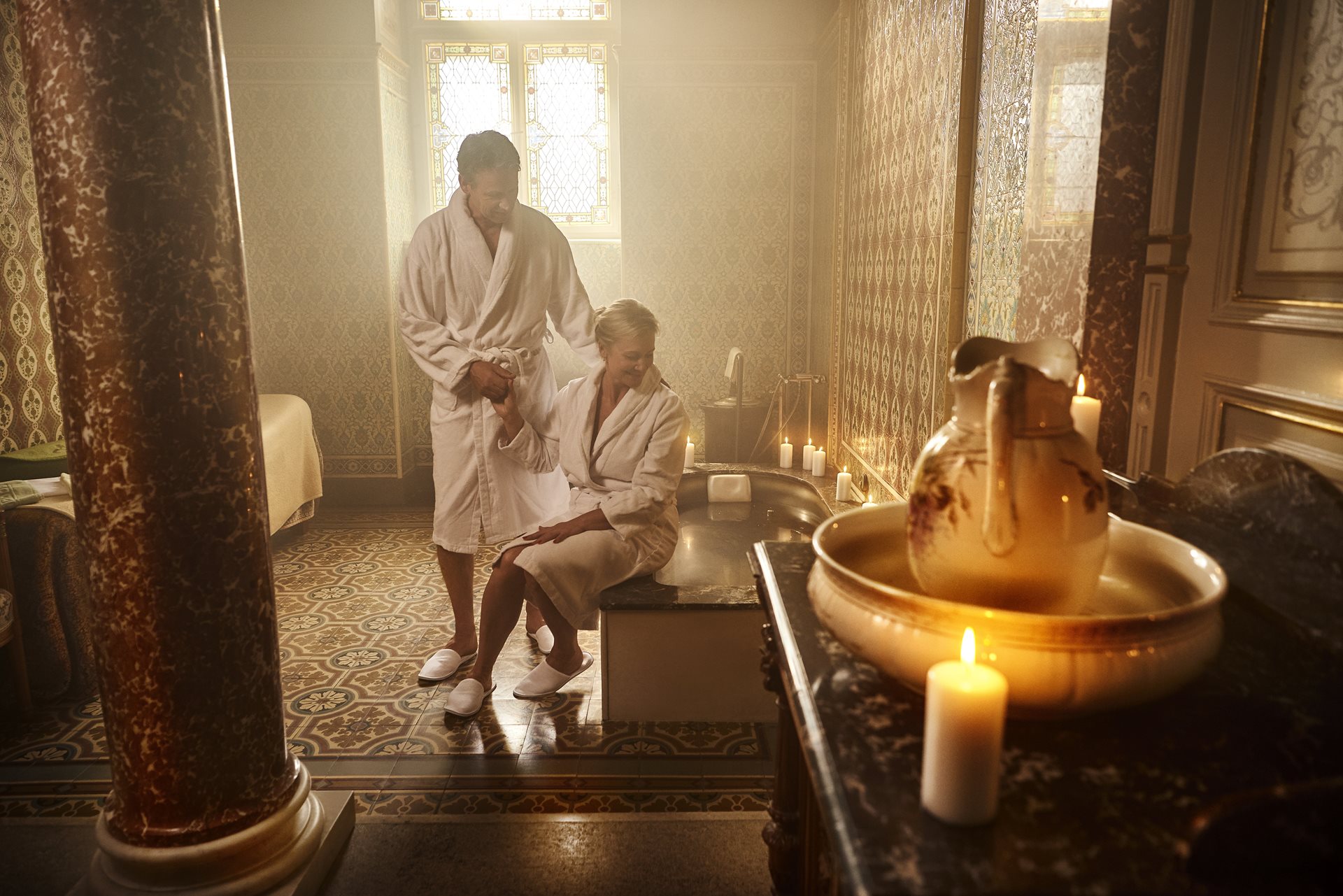 Romance at the Singing Fountain
You certainly shouldn't neglect to take a walk on the elegant neo-classical cast-iron colonnade, which dates from 1899 and is among the most beautiful in Bohemia. In the spa season, concerts of Mariánské Lázně classics are held here, while on special occasions, such as August's Fryderyk Chopin International Music Festival, the local symphony orchestra also performs. Why not taste the water from the Cross spring, which has beneficial effects on the kidneys, while also enjoying some dulcet tones? Not far from the spring you can take in the world renowned Singing Fountain, at which you can listen to one of several world famous compositions every odd hour on the hour. Those of a romantic nature should return in the evening, when the fountain is illuminated by lighting effects.
Where to next?
Do you like history and places surrounded by stories? If so, you should explore the spa town's environs! Kynžvart Chateau, for instance, is a unique example of classical architecture. Meanwhile, the magnificent Teplá Monastery, founded in the 12th century, has a wonderful library. And if you enjoy more active holidays, visit the Mariánské Lázně Golf Course, which is the only Royal Golf Club (a title bestowed by Great Britain's Queen Elizabeth II) outside the Commonwealth.
Address
Turistické informační centrum Mariánské Lázně
Hlavní 47
353 01 Mariánské Lázně
Nearby Accommodation and Restaurants