Christmas is one of the most important Christian-rooted holidays celebrated in the Czech Republic. But regardless of denomination, most Czech people view Christmas as a time of peace, quiet, and love, and they celebrate it with their families and friends. The anticipation and celebration of the birth of Jesus Christ are connected with many traditions influenced by both Christian and pagan customs.
Advent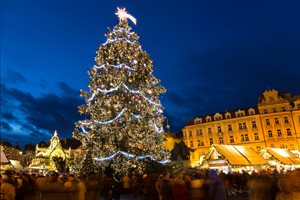 If you would like to celebrate Christmas like the people of the Czech Republic, you need to start about
one month before the actual holiday
at the beginning of
Advent
, the four-week season dedicated to preparing for Christmas. It usually starts at the end of November or the beginning of December. A lot of people build
nativity scenes
on the first Sunday of Advent, and around the same time Christmas markets in city squares open. The largest Advent market in the Czech Republic is on
Old Town Square
in
Prague
.
Advent used to be a time of fasting and waiting for Christmas. People generally no longer fast, but other
Czech Advent customs
have been preserved over the centuries. The most visible of these is the
Advent wreath
. A wreath without candles is used to decorate doors, and a variety with candles is used to count down the four weeks of Advent; each Sunday, one more candle is lit. Another custom is
collecting cherry branches
. On 4 December, St Barbara's Day, a branch of a cherry tree is picked, taken home, and attended to it as if it were a regular cut flower. If the branch blooms by Christmas Eve, all your wishes will come true in the next year. Another tradition is the celebration of St Nicholas Day on 5 December. This day is when
St Nicholas, an angel, and a devil
visit households in the evening. St Nicholas rewards children who have been nice and the devil punishes those who have been naughty. Of course it's all in good fun and the devil is only to scare the children a bit; every child gets small gifts and sweets from St Nicholas.
Christmas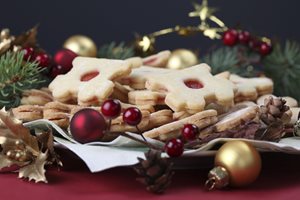 Christmas in the Czech Republic starts on
24 December
,
Christmas Eve.
There are an abundance of legends and traditions related to this day, largely because, people used to think of this day as full of magic and ritual. While most people today do not observe the all-day fast until dinner so that they can see a golden piglet that represents wealth, other customs are still widely observed, such as
decorating a Christmas tree, singing Christmas carols
, going for a walk, or even visiting a cemetery to remember those who are no longer with us. Some Czech families still observe some pagan-inspired customs too, such as looking into the future by cutting an apple in half, or telling fortunes by pouring hot lead into water. Also, the preparation of the
table for the Christmas feast
– such as always setting an even number of plates and everyone dressing up for dinner – is still closely observed.
And what will you find on almost every Czech Christmas table?
Fish soup, carp (or sometimes another fish), schnitzels with potato salad, and a plate with traditional Christmas cookies
. No-one gets up from the Christmas table, as the legend goes that if you leave the table you will die within a year. After dinner, the long-awaited moment finally comes: children await the sound of a bell telling them that the never-seen
Ježíšek
has just left the house, though not before placing presents under the decorated tree. After dinner has been eaten and gifts have been opened, a lot of people, even normally non-religious people, go to church for
midnight mass
. The midnight masses at
St Vitus Cathedral
at
Prague Castle
and at
St Peter and Paul's Cathedral
in
Brno
have particularly unique atmospheres.
On the first and second days of Christmas, 25 and 26 December, families, friends, and neighbours
visit one another
and spend time together. Stuffed and roasted duck, goose, or chicken, is usually served for lunch along with dumplings and cabbage.
Try to observe a few Czech customs this year; you will find that they make Christmas truly magical!