Autumn in the Czech Republic sees nature put on a variegated garment and brings chilly, foggy mornings. Although, don't let cold and damp autumn weather put you off from making a trip! On the contrary, autumnal weather lends a genuine melancholic atmosphere to many spots. We've got tips for places to visit, which you will even surely like in this season of the year.
Průhonice park
You will find natural sceneries reminiscent of a fairy tale just a few kilometres from
Prague
. It is
one of the largest natural landscape parks in Central Europe
covering an area of around 240 hectares. In autumn, when the sun slowly breaks through heavy fog, the park is an ideal place for both relaxation and romantic walks. The park was founded in 1885 by Count Arnošt Emanuel Silva-Tarouca, the owner of
Průhonice
Chateau. Besides a forest with exotic woody plants, it also features meadows and an extensive rockery built on rocks above Botič brook. You can roam the park all day long as it has about 40 km of groomed paths! In addition to being of historical significance, the park is also valuable from a dendrological point of view as a
collection of domestic and exotic woody plants
, numbering around 1,600 species.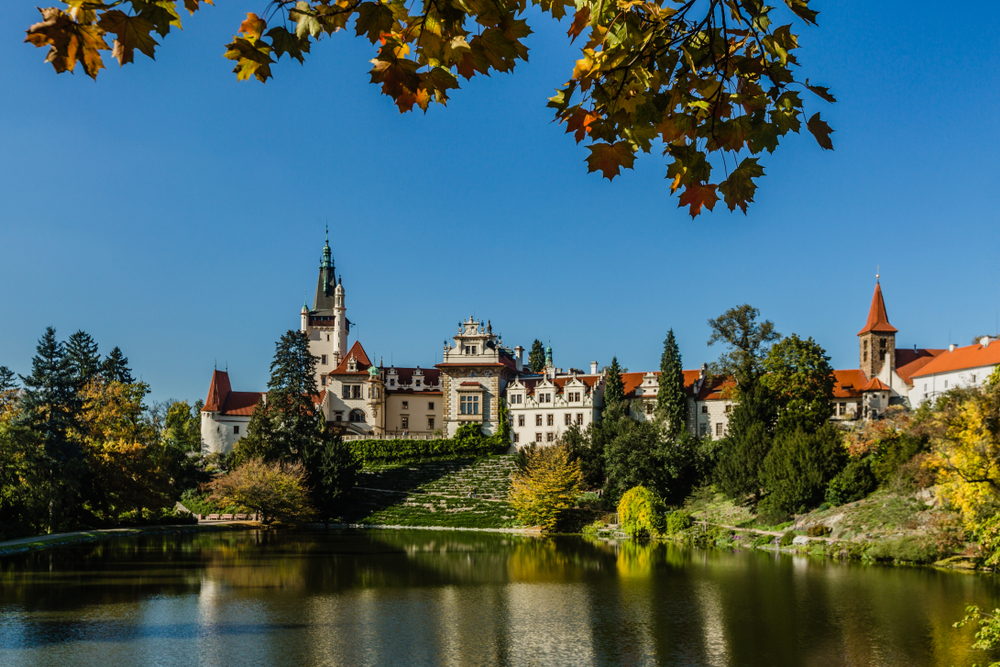 St. John's rapids (Svatojánské proudy) trail
The
St. John's rapids educational trail
leads through a romantic deep rocky valley of the
Vltava
River, through the stretch of the former St John's rapids (
Svatojánské
proudy
), which are now flooded by the Štěchovice Reservoir to the south of
Prague
. Rafts and cargo vessels carrying wood from
Šumava
to Prague used to navigate the Vltava in the past. And it was at St John's rapids where there was a stretch of the river that was a menace to boats. Owing to its rapids, the river considerably complicated the life of bargees and posed a threat to the transport of cargo. The
first hiking trail
in what is today the Czech Republic was built above the river and its rapids in 1889. And you can still take a walk along it. The roughly 10 km long trail
begins in the small town of Štěchovice and ends at Nové Třebenice
, where you can get onto a cruise ship and sail back to Štěchovice, or get on a bus to take you to Prague. The trail leads through hard terrain, partly on a steep hillside, and is solely intended
for
hikers
. Small children and bikers should not use the trail. Narrow paths in the canyon above the river offer a lot of romantic views, but they are not intended for less fit travellers.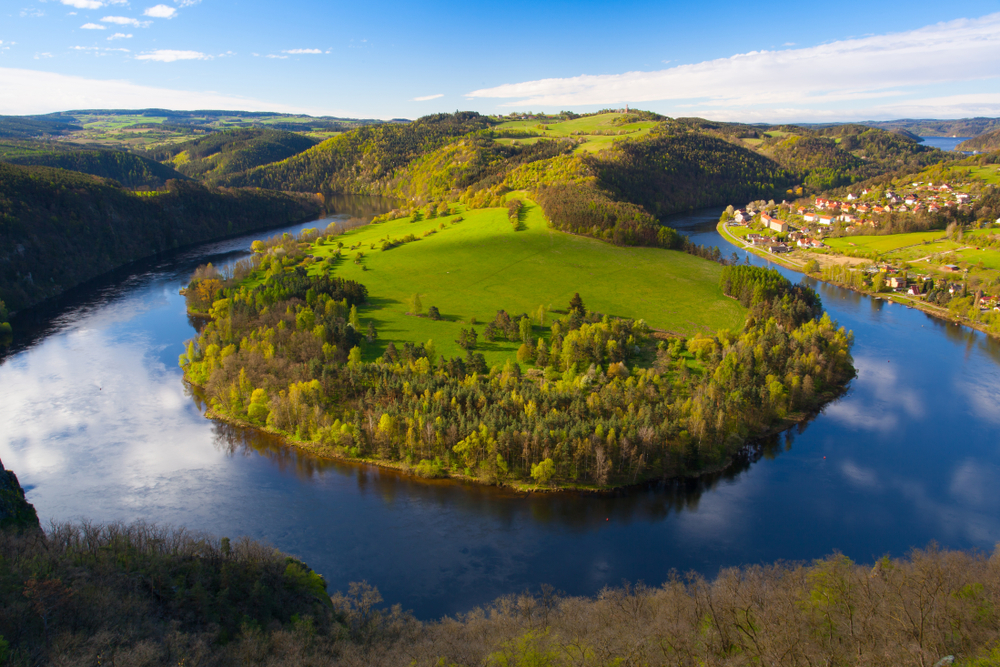 South Moravia and open cellars
When you ask the Czechs where they would like to go to spend an extended weekend in autumn, a lot of them will tell you that they would like to visit
South Moravia
. It is the warmest and sunniest region of the entire Czech Republic as well as an area where, mainly in the grape harvest period in autumn,
wine flows like water
! This year it is a slightly different story due to the coronavirus pandemic, but you can still visit
open wine cellars
. In November, wine-makers will be happy to show you their wine cellars and let you taste their wine, for example, below the dreamy hills of
Pálava
in Horní and Dolní Věstonice
(20/11) or in
Pavlov
(27/ 11).
Velké Pavlovice
will have cellars open on St. Martin's Day on 13 November, and
Hustopeče
on 6 and 7 November.
However, South Moravia offers much more than wine. For example, don't leave out a tour of the Gothic Revival gem of Moravia –
Lednice
Chateau, or the nearby town of
Valtice
and its chateau.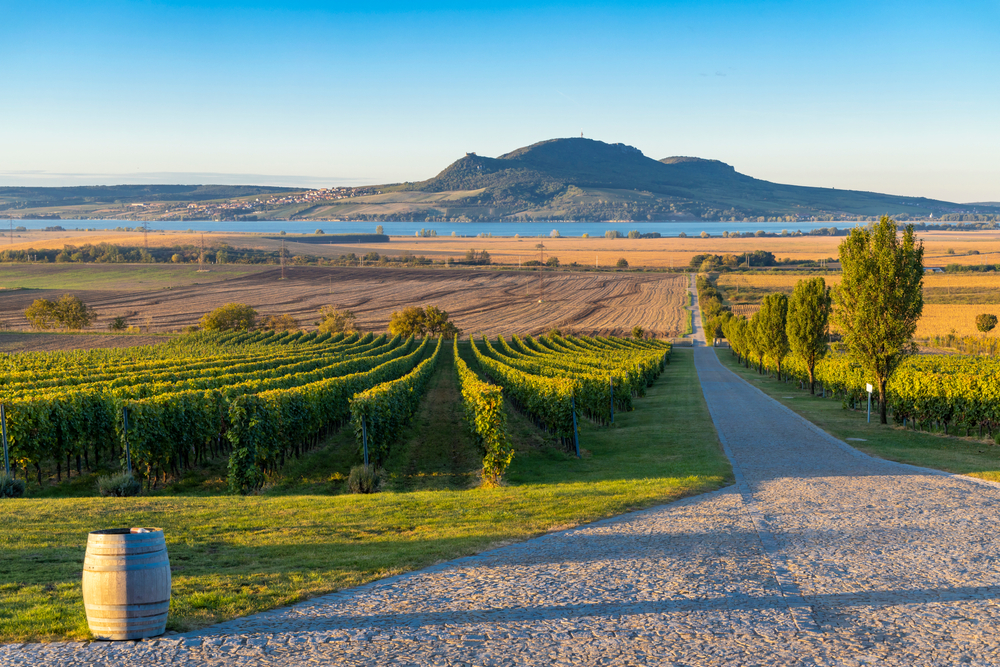 West Bohemian spas and the Ore Mountains
Autumn tends to be a season with rainy and bleak days, and it is better to spend them somewhere in the warmth of a spa or wellness facility. You have such an opportunity in
West Bohemia
. It is a region that has for centuries been well-known for its
hot springs, spas
and
healing treatments
, which are good not only for the body but also for the soul. Where should you go to visit spas? Try
Karlovy Vary
,
Mariánské Lázně
,
Jáchymov
or
Františkovy Lázně
. You can enjoy mineral water and spa wafers at any of these spa resorts, but it is only in Karlovy Vary where you can see a
geyser of hot mineral water
called Vřídlo (
Hot
spring
), which spouts water up to a height of 12 metres. In Mariánské Lázně you can see a beautiful
cast-iron neo-Baroque colonnade
built in the late 19th century. You can touch a
sculpture of a small boy with a fish
in Františkovy Lázně to bring you luck. In Jáchymov, where the
world's first radon spa was set up
more than one hundred years ago, you can go for a stroll along an educational radon trail and try out the beneficial effects of this water. The spa is situated in an area below the
Ore Mountains
, which offer hundreds of kilometres of trails for both hikers and bikers, if they are lucky enough to have favourable autumn weather.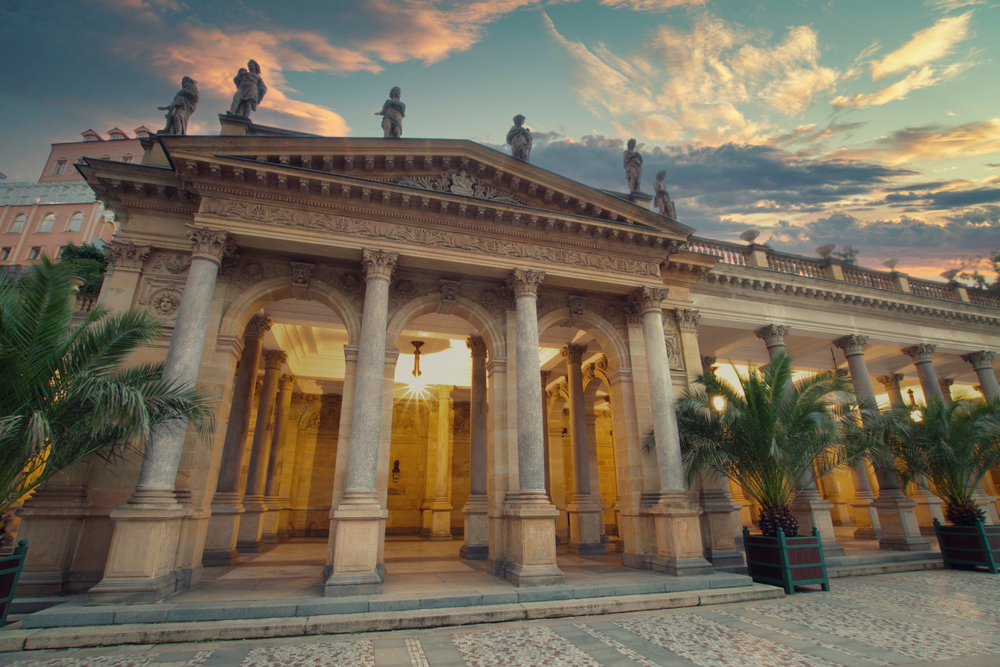 Pustevny in the Beskids
Autumn is ideal for walks in the 
Moravian
Beskid
Mountains as well.
Pustevny
is one of the most attractive sites in the Beskids. It offers you a broad range of hiking trails suitable for any age group. The chairlift running from the village of Trojanovice up to Pustevny comes in handy for families with children and for seniors. The pleasant and undemanding route, which is 4 kilometres long, leads from Pustevny up to the summit of
Radhošť
Mountain. Almost the whole path has a hard surface so, for example, parents with prams or bikers will truly appreciate it. The route will take you around the statue of the pagan god
Radegast
up to a ridge of the Radhošť Massif. Why does the statue of the Slavic god stand there? Legend has it that the Christian missionaries Cyril and Methodius, who spread Christianity there in the mid-9th century, had an idol of him demolished at the mountain's summit. It returned there in the form of a romantic copy of the statue as a reminder of the act some 1,000 years later. The path ends at the summit of Radhošť Mountain near the wooden
Chapel of St Cyril and Methodius,
dating back to the 19th century. The place offers a view to the four points of the compass and many old tales are associated with the mountain. Come to explore them!