The statue that outraged the Council of the EU, a men's suit "ridden" by Franz Kafka, a heart for Václav Havel, and the death mask of Jan Palach – the immolated fighter for freedom and democracy... These are just a few examples from the diverse world of Czech sculpture. Join us on a tour of the most interesting sculptures by Czechia's 10 most famous artists!
Matyáš Bernard Braun: The statues on Charles Bridge and in the church that Casanova used to visit
Discover the mastery of Matyáš Bernard Braun and go back in time to the Baroque period, where art takes on life and a spiritual dimension. Braun's sculptures and carvings are famed for their precision and detail. He was influenced by the Baroque art of Italy and his sculptures and altarpieces adorned many churches and monasteries in Czechia and Austria.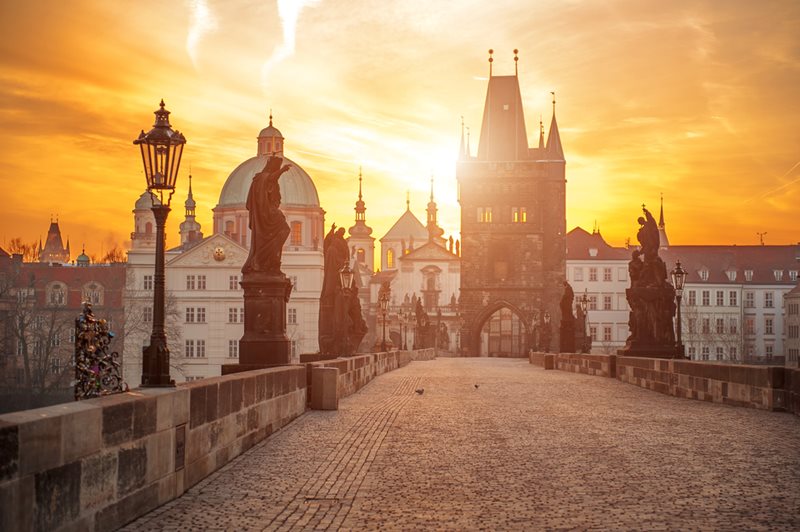 His most important works include the statues and reliefs adorning one of the most distinctive landmarks on Old Town Square in Prague, the Church of St. Nicholas, the statues lining Charles Bridge, and the interiors of St. Clement's Cathedral at the Klementinum in Prague. Outside Prague you can follow the trail of this Baroque master at places such as Veltrusy Château, Kuks Hospital or the Plasy Monastery. He also decorated the church at the château in Duchcov, which is famed for playing host to Casanova.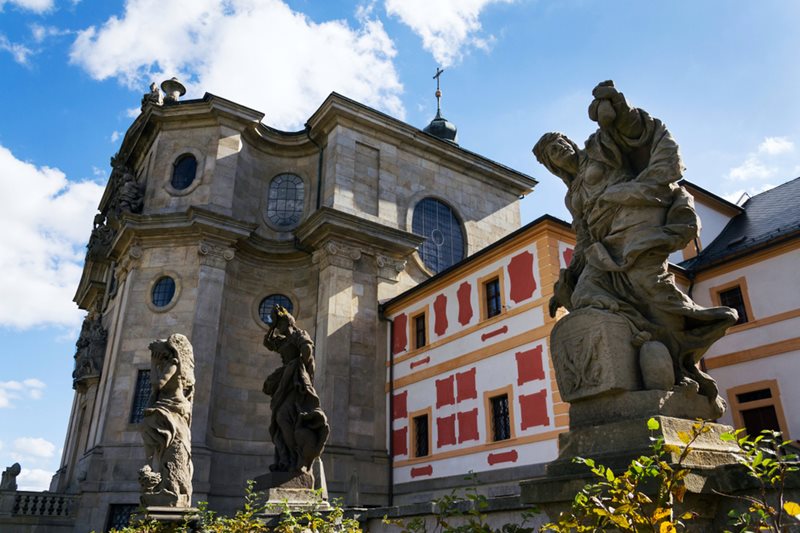 David Černý: The master of provocation has created a new Entropa
In the Czech art world, David Černý is a name that shines like stars in the night sky. His extraordinary sculptures and artworks are provocative, inspiring, and the subject of passionate debate. In 2009 Černý was tasked with creating a sculpture that would come to symbolise the Czech Presidency of the Council of the EU. His controversial Entropa satirically depicts the individual Union Member States. However, the biting humour of the work elicited such vehement feedback from state officials that the eight-tonne work, in the style of a model kit, was prematurely dismantled and moved to Plzeň. You can see it at the Techmania interactive science centre.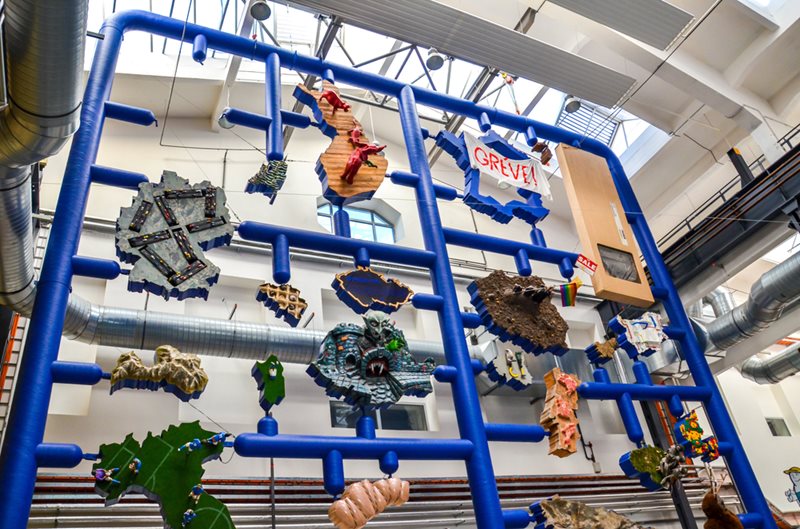 You can also see a number of works by this controversial artist in Prague. These include his Metalmorphosis, an imposing rotating sculpture of the head of Franz Kafka, the statues of the babies "climbing" around Kampa or up the Žižkov Television Tower… Or, you could simply visit Černý's gallery, Musoleum.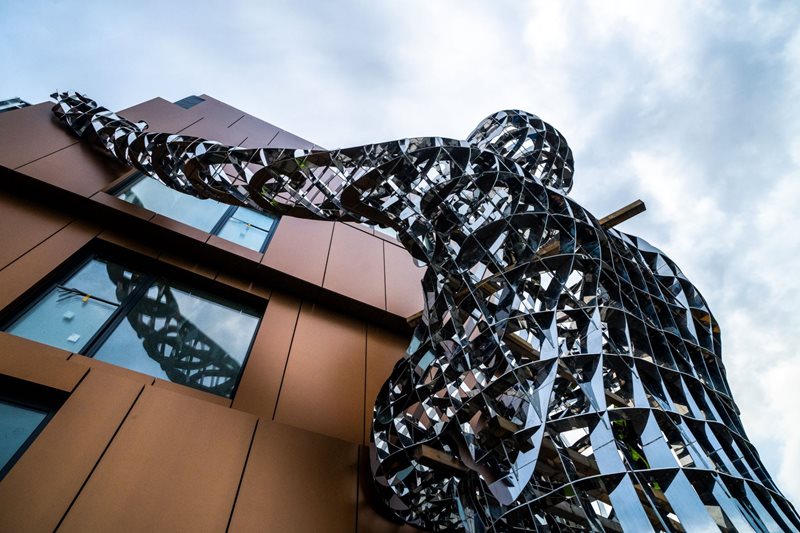 Jaroslav Róna: Fantastic giraffes and a bronze Kafka
Immerse yourself in the stunning world of Jaroslav Róna, where art mirrors the human soul. When taking a stroll around to see Róna's work, which you'll mainly find in the streets of Prague, you'll discover statues and sculptures eloquently portraying various aspects of human life and society. You certainly shouldn't miss the memorial to Franz Kafka in Prague's Jewish Quarter or the sculpture of the fantastic giraffe at Pankrác.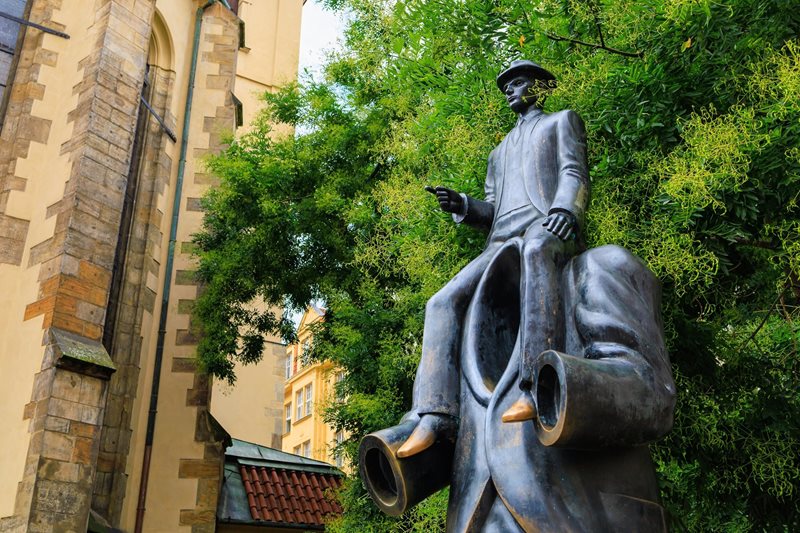 To see Róna's work outside Prague, it's well worth a trip to Brno. One of the most eye-catching landmarks on Moravské náměstí is his statue of Margrave Jobst. Róna's works are filled with emotion and provocation, with each of his views of the world reflected in his unique and expressive approach to art.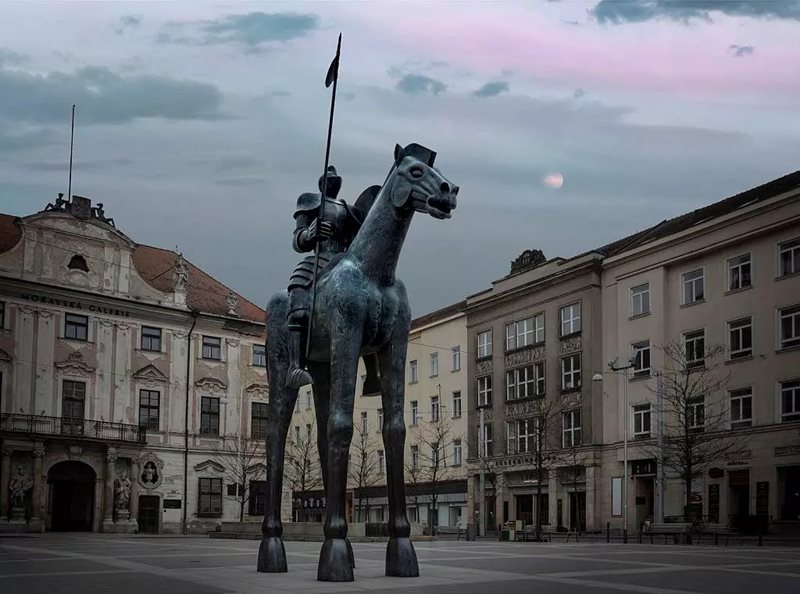 Olbram Zoubek: A 20th-century Czech sculptural genius
If you're looking for an artistic experience that cuts right to the heart of 20th-century Czech sculpture, you can't go wrong with the work of Olbram Zoubek. Besides various collections, Zoubek's sculptures can also be found in public spaces around Prague, Litomyšl and other places throughout Czechia. And it was this artist who, during the tumultuous Prague Spring of 1968, took the death mask of student Jan Palach, who burned himself to death in protest at the occupation of Czechoslovakia by the Soviet army. The mask, the symbol of the Czechs' struggle against the communist regime, is now part of a National Museum exhibition in Všetaty near Mělník.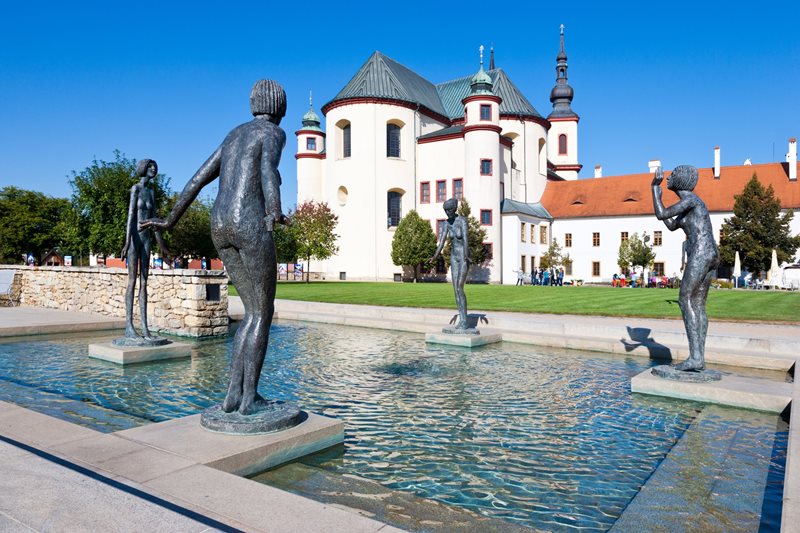 Josef Václav Myslbek : Meet up below the tail
This classic master of Czech sculpture was an important figure in the Czech art world and his works are an indelible part of Czech culture. His masterpieces include, for example, sculptures personifying characters from old Czech fables and legends, which he created for Prague's National Theatre. Meet up "by Wenceslas", "by the horse", or "under the tail"? One unmissable landmark for tourists during their stay in Prague is the statue of St. Wenceslas on horseback, which proudly reigns over Wenceslas Square, right in the very heart of the Czechia's capital.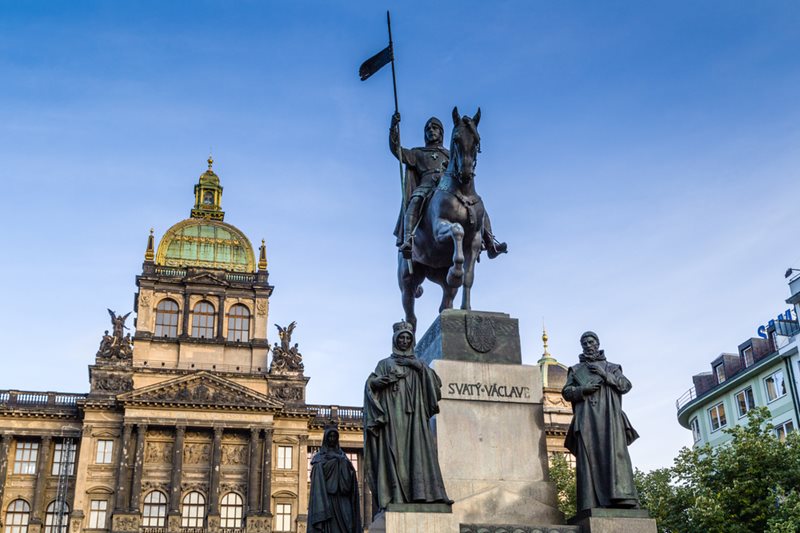 František Bílek: Crucified at Prague Castle
This sculptor, whose heyday was in the late 19th and early 20th century, invites art lovers to embark on an exceptional journey through symbolism and spiritual art. Bílek's esoteric and personal work delves deeply into spiritual and philosophical themes and reflects his own search and faith. Nowadays you can visit Bílek's villa in Prague, which has been converted into a museum and gallery dedicated to the artist, or you can see his Crucifixion in St. Vitus Cathedral.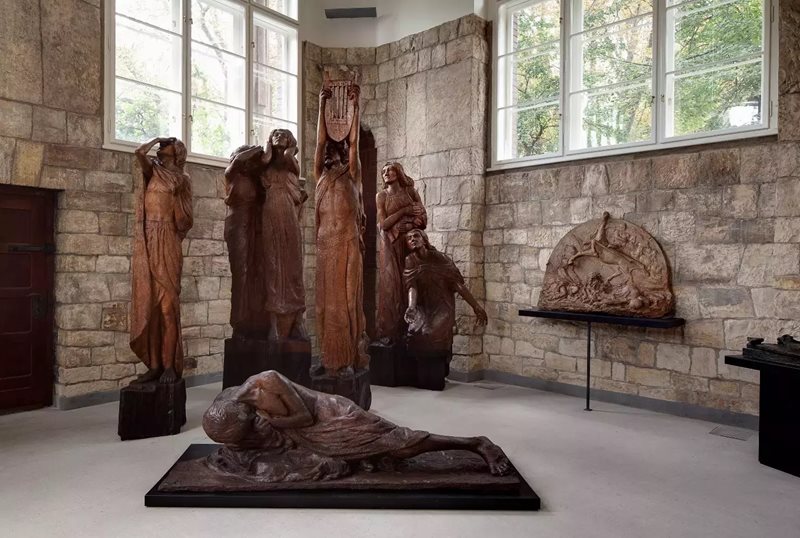 Kurt Gebauer: A heart for Havel and a pyramidal dwarf in the Czech royal residence
This multi-talented artist is known for his ability to work with a variety of elements and styles, but also for his penchant for adding beauty to his surroundings. As he experiments with materials and techniques, each of Gebauer's works is a search for new boundaries of artistic expression. You can see his Mask and Pyramidal Dwarf in the grounds of Prague Castle, his Heart for Václav Havel in front of the National Theatre in Prague, and Dream of Flying in the garden of the fairy-tale château in Hradec nad Moravicí, the town where the sculptor was born.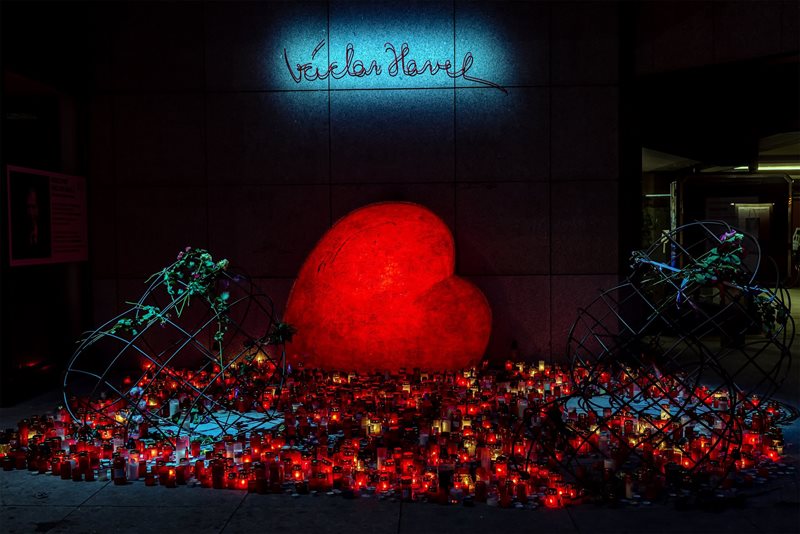 Ladislav Šaloun: Step into a paradise of symbolism
The work of Ladislav Šaloun is a window onto the artistic spirit that reigned at the turn of the 19th and 20th centuries. Šaloun's studio was a popular meeting place for leading Czech artists such as painter Alfons Mucha, singer Ema Destinnová or sculptor František Bílek. Šaloun's work was heavily influenced by Art Nouveau and symbolism, which gave rise to his iconic Slavín tomb at Vyšehrad Cemetery or Jan Hus Monument on Old Town Square.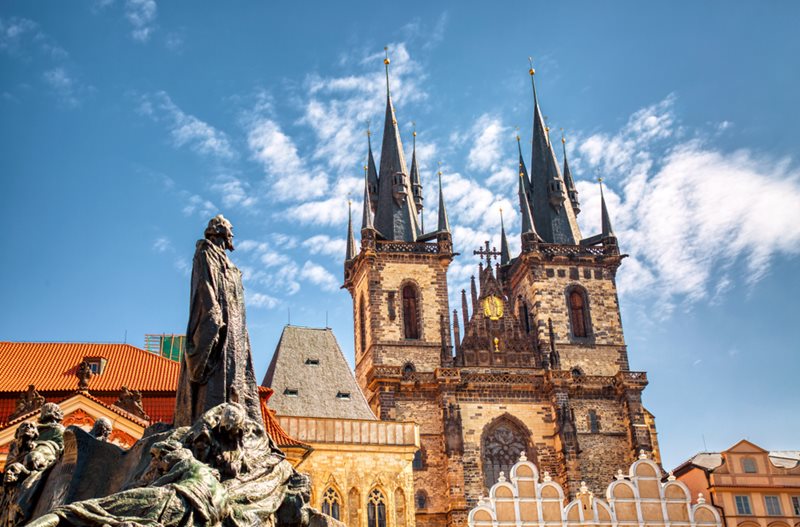 Krištof Kintera: Discover the artistic vision of a multifunctional artist
Krištof Kintera is an artist who knows no boundaries. His works draw you into the depths of human existence, identity and society. He works with unconventional materials and techniques, giving his work a unique strength and expression. Amongst other things, he was involved in the creation of the controversial Entropa with David Černý. Although Kintera was born in Prague, one of his most iconic works can be found in Brno. The atrium of the city's Moravian Gallery is home to his opulent installation entitled Demon of the Growth.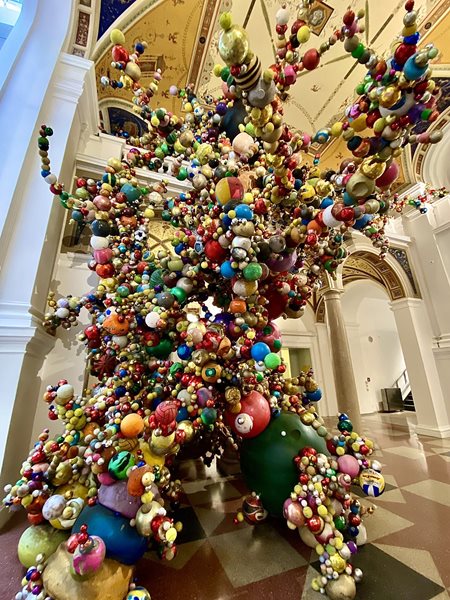 Magdalena Jetelová: Art that pushes the boundaries of possibilities
Discover the monumental work of this Czech-German sculptor, who breaks out of the traditional framework and discovers new dimensions of fine art. Her works open up a unique perspective on the relationship between man and nature, technology and our perception of space. The artist is not afraid to tackle topical environmental issues and questions of how we as people interact with the world around us.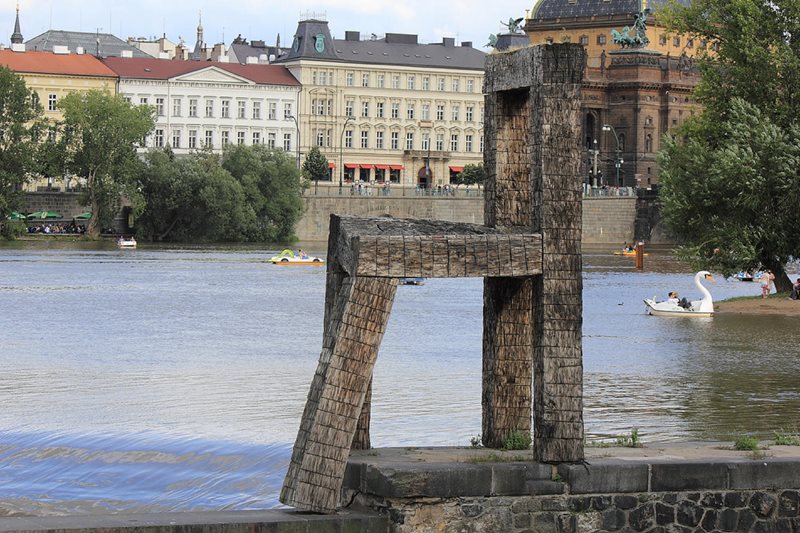 Magdalena Jetelova: Vltava Chair, 
artatsite.com